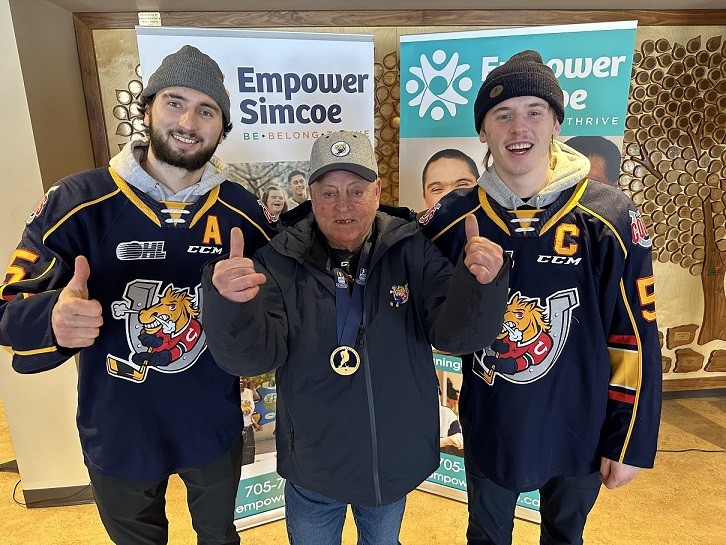 31 Jan

Caring Colts Visit Empower Simcoe's Biggest Hockey Fans

Barrie Colts owner Howie Campbell and Colts Brandt Clarke and Jacob Fraska stopped by RVH to visit with Colts fans Sean, Jeff and Empower Simcoe Community Support Worker Melanie Smith, who were impacted by the December 1st car accident outside the Sadlon Arena.

While Melanie continues to recover at home, Jeff and Sean are still receiving care at RVH. All three are continuing to improve in their recovery.

They want you to know how grateful they are for the outpouring of thoughts, prayers and the generous GoFundMe donations from the community that total close to $22,000.00! These funds will be equally divided amongst Jeff, Sean and Melanie; greatly assisting in their long road to recovery.

The Barrie Colts also paid a visit to Empower Simcoe to visit Ray. Last November, Ray was the victim of a hit-and-run accident on his way home from a Colts game. Emergency personnel had to cut through Ray's beloved Colts jacket to safely extricate him from his vehicle. Today, Ray received a new Barrie Colts jacket and hat from Brandt and Jacob and the opportunity to model Brandt's gold medal from the recent World Jr. Hockey Championships.

Please join Empower Simcoe in thanking the Barrie Colts for this generosity and thoughtfulness for Sean, Jeff, Ray, Melanie, and our extended Empower Simcoe family.